Doctor Who

I was commissioned by BBC Worldwide to write and produce an original soundtrack for Dr Who, Season 7 Trailer. The following is the composed piece by itself. To view the actual trailer,
click here
Tom.
11th May 2013
---
Update

Our apologies for the radio silence. We've have had our noses to the grind stone. Loads of new material pouring out the workshops. We moved to a new studio in February this year, which is already having positive effect, not least because it's south facing and is filled with sunlight all day. Makes a change from the usual dark studio environment. It's influencing the music in lots of other ways too. Very different sounding work to what has come before. New material is being written almost daily.

There are also other exciting developments with soundtracks, record labels and live tours. We can't say too much right now, but we'll be releasing some exciting news as soon as we're able via video links, teasers and tweets.
Thanks to all our fans for your continued support. If we go silent, it's because we're working hard on getting new material out there. And if the developments of the last 2 months are anything to go by, we think it will have all been worth it.
Tom.
25th April 2013

---
Origamibiro: A Collective Shift

Origamibiro has been undergoing a lot of changes recently. Over the last 6 years, it's transformed from a solo project into a collective, which has seen Jim, Andy and myself touring across Europe, releasing music, writing soundtracks, remixing, making films, collaborating with other artists, creating art installations, moving studios (four times!) and everything in between that's part and parcel of being in a band.


As a process it's been constantly malleable; ever changing and unfamiliar. And we like it that way. But, despite our dislike of 'painting-by-numbers', we had hoped, by now, to find some kind of loose formula that would lay a path for what we do - purely as a more efficient way of being consistently productive. But, when it comes to the work we enjoy, it seems the formula is change itself.

In terms of the 'collective', the idea was to create a self perpetuating circle of productivity that would feed in from the live show, through to the recorded material and back out again. And, for a while, it did. Shakkei was very much a part of that process. We just fancy trying something different. Again.
We've never been interested in performing a facsimile of an album. For us, the whole enjoyment in performing is in not always knowing quite what's gonna happen. But we do respect the fact that we each have our own artistic vices, which don't always fit into the group dynamic.

So, for the next stage of Origamibiro's evolution, we've decided to make a clearer distinction between the studio album and the live show (and live recordings). From the perspective of any fans who have been following us, seemingly, there will be little change, as we'll continue to perform as an audiovisual collective. The main difference will be that the next studio album will kind of revert back to a bit of a solo project for me.

Ultimately, it means we each get to focus on what we do and enjoy best. And hopefully, if you've liked what we've done up to now, you'll enjoy it too.

Of course, this could all change. Maybe there is a pattern emerging after all.
Tom.
10th April 2013
---
Flicker: Free Download
Free download of Origamibiro's track, Flicker.

For more free downloads of tracks taken from the album, Shakkei Remixed,
click here
---

Shakkei Remixed Promo
Jim's installation, Caol Ila, is a project which inspired the promo film for our latest release, Shakkei Remixed (out now). Check out Jim's Vimeo page for info on this project and more: The Joy of Box

---
Shakkei Album Teaser

Teaser snippets of our new album, Shakkei, out now:

---
Vimeo Awards Finalists!

Our live video, Quad Time, won finalist of the 2012 Vimeo Awards! Thank you to all who voted.
To promote the release of our new album, Shakkei, we're releasing "Quad Time & The Genius of the Crowd" with remixes from Leafcutter John, Joseph Minadeo, Soil and Water, Juxtaphona and Low In the Sky - including the above video - all for free. Click here to download
---
NME

Gig review from our 2012 tour in the NME:


---
Shakkei - Out Now
September 2011

The second Origamibiro album - Shakkei - is out now. Released by Abandon Building Records in the US and Denizen Recordings here in the UK, it's the culmination of four years work since the last Origamibiro release on Expanding Records in 2007.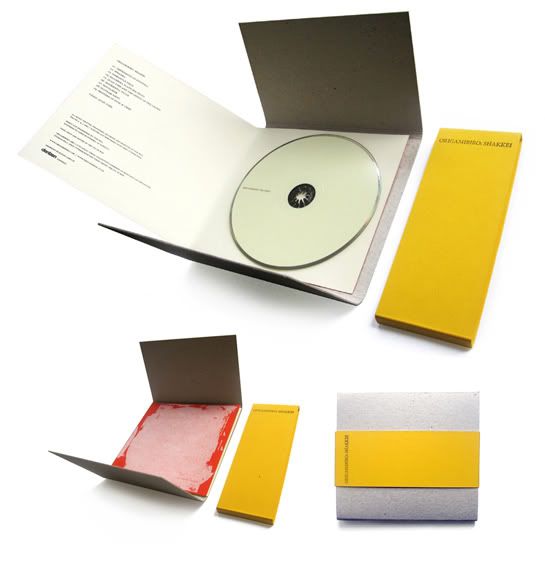 Shakkei sees Origamibiro's music expand into new directions. This album also marks a significant point in their evolution as Origamibiro becomes a full blown audio-visual collective.

Originally a solo project for Tom Hill, Origamibiro began to grow as he enlisted new blood in the form of double bassist and multi-instrumentalist, Andy Tytherleigh, and video artist, Jim 'The Joy of Box' Boxall. They explored ways to expand out from Tom's studio recordings into full blown live audio-visual performances and in the process found that their ideas and approaches were becoming closely intertwined.
The trio took time out to perform live and experiment with how this kind of music and visuals could be generated and performed live. 2009 saw them playing places like Paris, Rennes, London, Nottingham, The Big Chill Festival, Summer Sundae and The Dublin Fringe Festival, where they gained an award nomination for best production.
Through their studio experiments and live performances, Origamibiro have strived to produce music and images that are beautiful, generative and organic. They have fused their respective backgrounds together, bringing an intricate and diverse selection of instruments, elements of expanded cinema, soundtrack music, found objects and unorthodox devices.
---
| M O N O L I T H U S

A lot of the soundtracks I write are private commissions for films that can't be aired publicly, so I've adapted some and made my own films for the ones I'd like to see the light of day, like this:
---
audio visual • soundtrack • post-classical • neo-classical • electronica • instrumental • post-rock • ambient • folk-tronica • live performance • cinematic • minimal • acoustic • acoustic-electronica • laptop folk • experimental • contemporary classical • soundscape •